HI529 – Hawaii's College Savings Program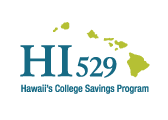 In April, 2002, the State of Hawaiʻi launched TuitionEDGE A Hawaii 529 College Investment Program in order to assist and encourage families to save ahead for higher education expenses. Five years later, the State conducted a review of the Program. This review resulted in new Program and investment management, lower costs, enhanced services, and a new name—HI529.
Basic Features:
HI529 is a college savings plan established under Section 529 of the Internal Revenue Code

Anyone—including friends, grandparents and other family members—can open an account for as little as $15

Earnings grow tax-deferred (both federal and Hawaiʻi State taxes)

Upromise Investments, Inc. and Upromise Investment Advisors, LLC provide Program management and recordkeeping and administrative services

The Vanguard Group, Inc. provides management of HI529's flexible investment options

The State of Hawaiʻi (through the Director of Finance) maintains oversight of the Program
For general information about Section 529 college savings programs, visit the College Savings Plans Network at www.collegesavings.org
For more information about HI529— Hawaiʻi 's College Savings Program, call 1-866-529-3343 or visit www.hi529.com to obtain a Plan Disclosure Statement. Investment objectives, risks, charges, expenses, and other important information are included in the Plan Disclosure Statement; read and consider it carefully before investing. Upromise Investments, Inc., is the Distributor and Underwriter.
If you are not a Hawaiʻi taxpayer, consider before investing whether your or the designated beneficiary's home state offers any state tax or other benefits that are only available for investments in such state's qualified tuition program.
The State of Hawaiʻi 's College Savings Program Trust Fund (the "Trust") is a trust created by the State of Hawaiʻi . When you invest in HI529— Hawaiʻi's College Savings Program (the "Plan"), you are purchasing portfolio units issued by the Trust. Portfolio units are municipal securities. The Plan is administered by the Director of Finance of the Department of Budget and Finance on behalf of the State of Hawaiʻi . Upromise Investments, Inc. and Upromise Investment Advisors, LLC, serve as the Program Manager and recordkeeping and administrative servicing agent, respectively, with overall responsibility for the day-to-day operations, including effecting transactions. The Vanguard Group, Inc. serves as Investment Manager for the Plan. The Plan's portfolios, although they invest in mutual funds, are not mutual funds.
Investment returns are not guaranteed, and you could lose money by investing in the Plan. Participants assume all investment risks, including the potential for loss of principal, as well as responsibility for any federal and state tax consequences.